Chris and I have pretty well completed our relocation to the outskirts of Walters Falls ON.   Our home and shop are built – landscaping has begun … and our doors are once again OPEN for Business.    Take a look at some of what we have been up to through our website  www.oldsoul.ca.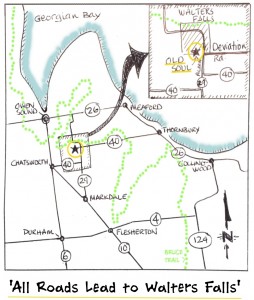 130 Alma St. Walters Falls ON  N0H 2S0
Life has settled down quite a bit from last years frenzy – selling our home and business in Elora and building and developing our new abode in the Grey Highlands.   I am back in the studio painting/creating full time – it is wonderful.  I have started to accept commissions again —  so if you have a special scene or a subject that you would like to see replicated/interpreted  – send along your ideas or pictures and I'd be happy to create a piece just for you.
Please Click the Commissions Tab for more info